Sony Xperia Play on 3
Sony Xperia Play on 3

,
Attention all gamers – here's the world's first PlayStation certified Android smartphone.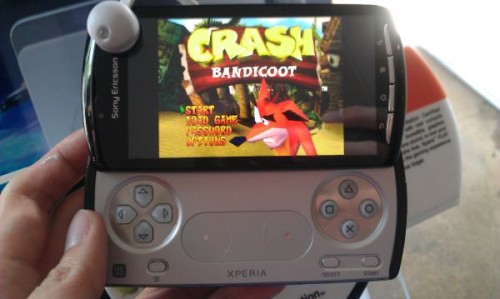 In all respects, the Play doesn't disappoint. Slide up the screen and your Android 2.3 smartphone turns into a portable gaming machine. Playing games with the familiar physical buttons is a fantastic experience, one that touch screens will never be able to emulate even with haptic feedback.
Three today announces the arrival of the much anticipated Sony Ericsson Xperia PLAY across its stores and online at three.co.uk.
This latest high end device from Sony Ericsson is available to customers with All-You-Can-Eat data on either The One Plan or on PAYG.
Built with gaming lovers in mind, this Android Gingerbread device is the first PlayStation Certified phone. It couples a best-in-class gaming controller with smartphone touch screen functionality to deliver the ultimate mobile experience.
Sylvia Chind, Head of Handsets said, "The Sony Ericsson Xperia PLAY is an exciting new device that really helps demonstrate the change in the way people want to use their phones. As well as mobile communications, the Xperia PLAY is about entertainment and gaming and shows how all these things can be combined into just one device. And when you combine these features with a fast 3G network and a generous data allowance, you get a fantastic mobile experience."
The Sony Ericsson Xperia PLAY is available for £499 on Pay As You Go. All in One 15 costs £15 and gives 30-days access to all-you-can-eat data along with 300 any-network minutes and 3,000 texts. Or All in One 25 costs £25 and offers 500 minutes, 3,000 texts and all-you-can-eat data for a 30-day period.
For contract customers the Sony Ericsson Xperia PLAY is available from £35 per month (upfront cost of £99 for the handset) or for £40 per month (with an upfront cost of £49) on The One Plan with All-You-Can-Eat Data, 2000 anytime, any network minutes, 5000 texts.
Key features:
• PlayStation dashboard launcher
• Gaming controller: D-pad, 4 symbol keys, shoulder buttons (R/L), 2 analog "touchpad" joysticks
• Powerful processor running at 1GHz and delivering 60frames/second for true-to-life games experience
• axis accelerometer & e-compass
• Android 2.3 (Gingerbread) OS
• 5 megapixel AF main camera
• Front facing VGA Camera
• Stereo speakers